Shooting of the sequel commences with Dev Kharoud & Japjee Khaira as lead
Chandigarh: 17 November,2020: Ultimately the wait is over for the Punjabi movie lovers
as the poster of most awaited sequel 'Daakuan Da Munda 2 has been revealed today.
The shooting of the movie has commenced under the banner of Dream Reality Movies
and Omjee Star Studios.
With their earlier super hit releases 'Rupinder Gandhi 1', 'Rupinder Gandhi 2', 'Dakuaan
Da Munda', 'Kaka Ji' and'DSP Dev' the team is once again gunning for yet another
mega hit. Director of the movie – Dakuaan Da Munda, Mandeep Benipal is slated to
continue with the direction of the sequel Dakuaan Da Munda-2 with producers –
Ravneet Kaur Chahal, Rajesh Kumar, Ashu Munish Sahni & Aniket Kawade.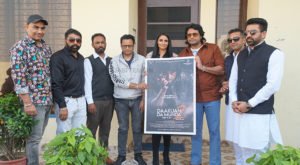 Dakuaan Da Munda movie's first part was released in 2018 on the biopic of Mintu
Gurusaria that was a blockerbuster of the year marking the highest first day opening in
pan India. Now the shooting of Dakuaan Da Munda-2 has started which is based on of
the highly appreciated book 'Shararti That ' inspired from Manga Singh Antal's life.  With
Dev Kharoud continuing with the lead role the flavour of the character as protagonist
and the look is maintained . Complementing the lead role would be the beautiful actress
Japjee Khaira.
The supporting roles of various characters would be played by star cast Nishawan
Bhullar, Raj Singh Jhinjer, Lucky Dhaliwal, Preet Bath Balwinder Bullet and Karanvir
Khullar thus bringing alive the movie's flavour.
Talking about the film, Dev Kharoud  said, "While the audience loved the part-1 of
Dukaan Da Munda what's more encouraging is that the sequence is now getting into
shape as the shooting has begun however the movie has much more to reveal and the
part 2 is going to be interesting and different. The movie accords a positive message for
the youth by awaking them about Drug Abuse furthermore inspiring them to attain their
goals of life. I am really excited about this and I would like to thank producers Ravneet
Kaur Chahal, Rajesh Kumar, Ashu Munish Sahni , Aniket Kawade and of course the
director Mandeep Benipal sir for keeping faith in us & helping us make this film."
Mandeep Benipal, Director, said "We are happy that the audience loved the part one of
the movie and with that we are glad to now begin the shooting the part 2. As always, we
are working hard to give our audience the best results. It is the love and support of the
fans we got for Part 1,that encouraged us to shoot Part 2 of the movie"
Comments
comments