Deep Sidhu has been seen in 'Jora 10 Numbaria'  released in 2017. He has left the 10 numberi now and will be seen in a police character in upcoming movie 'Rang Punjab'. This movie is under the banners of Bathinde Wale Bai Films & Cinematic Media Works.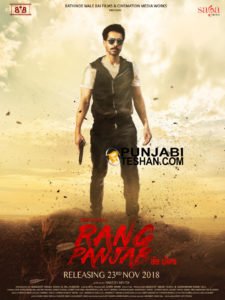 Official poster of the movie is released.Rang Punjab is directed by 'Rakesh Mehta' who has directed movie 'Vaapsi' in 2016. With this movie he is promising that audience will watch a completely different movie in terms of performances & technicalities also. The producers of the movie are Raj Kundra &  Mandeep Singh Sidhu. Music By Gurmeet Singh,Gurmoh And Music Empire.
Deep Sidhu will be doing actions in the movie. Along with him there are Kartar Cheema, Jagjeet Sandhu, Hobby Dhaliwal & many more who will be seen in the movie. Kartar Cheema is playing the character of Gangster. Now, it is very interesting to watch that what this police & gangster will show us. Movie is releasing on 23rd November, 2018.
Comments
comments