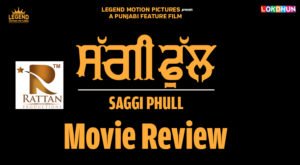 First Punjabi Movie of the year 2018 "Saggi Phull" has been released.The central theme of the movie is family drama, brotherhood, relations etc. Starring Ravinder Pawar, Amitoz Shergill, Sukhi Bal, Preet Simran, Nitu Pandher, Shivendra mahal, Gurpreet Bhangu and many more.
The story line of the movie revolving around two brothers Dari and Daler. Both the brothers are opposite to each other in terms of thinking and behavior. Dari believes in own fate and confidence on himself on the other side Daler Singh used to doing meaningless expenses and owe money from other sources. After the death of their mother there was partition on all inherited things.
Time passes they both got married. Dari got one daughter and daler got one son and one daughter. "There is a saying as you sow so shall you reap" according to this saying Dari's daughter Harjit has sensible mind and good character on the other hand Daler's son Whisky became a drunker and drug addicted and his daughter also not under the control of him. Dari faces all the situations very wisely and become a successful Farmer. Daler mortgage all his property to banks and third parties and became bankrupt and commit suicide at the end.
The moral of the story is very clear that you have to know the consequences of your activities. If you have a good mindset then at the end you will be happy.
This story is very near to Punjab's harsh releality because everyone going to be a part of "Rat Race". People doing More Expenses on Marriages than their pocket allowed, they owned many useless things. At the end they find themselves under a huge debt.
 If the Rural Audience takes this movie seriously they can go through the consequences of their useless expenditure.
The lyrics and the music of the movie is excellent. Miyan Bakhtawar wrote a very progressive script and songs too. "Jatt Mele aa Gya" will become a compulsory number for every Punjabi Cultural Event. The other song like Meediyan by Jaspinder Narula is a dancing nmber. Doli song is very emotional song. It's a first song in Punjabi on the occasion of Daughter's farewell at the time of wedding. Chirri Chooki a great song sung by Yakoob. "Daljit Singh" justifies his job very well.
The Captain of the ship the director of the movie "Shivtar Shiv" gripped the every second of the movie. The screenplay is very dramatically picturised. Shivtar Shiv did so many movies as D.O.P. as a director this is His First movie. He proves that he has a great potential.
In conclusion we can say that without having major Star Cast Team Saggi Phull deliver us a very meaningful concept movie. Everyone must go to cinemas and watch this movie.
Comments
comments