Punjabi movies are coming like a rain and this rain is proving good for Pollywood. There are many movies which are coming to entertain the audience and make them learn something. Jomraud is another movie which has released its first look. Official poster is out now and is very eye catchy.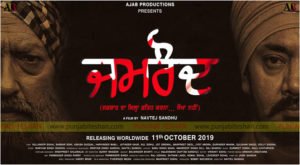 The poster is showing one side half face of Sardar Sohi and other side half face of Kuljinder Sidhu. This seems to be very amazing and deadly because their looks are very serious. Jomraud is another project which is not on the same pace and is all set to bring something new to the audience. This movie is directed by Navtej Sandhu. He is a well established name in Pollywood. Many other Punjabi artists will also be seen in the movie. On the poster Jomraud is written in red and white color combination. It looks really different and appealing.
Sardar Sohi is looking very different from other movies as his looks are very serious and his beard is long. His characters are always loved in every movie. Now lets see what he is up to in this one and other side Kuljinder Sidhu is famous for negative shades which he plays well. This time what he will being is surely much awaited. This movie will release on 11th October, 2019.
Comments
comments