Mohali, May 24: (Punjabi Teshan) The digital world has also changed the face of cinema. In this transforming era, new experiences are also taking place regarding cinema. Now movies are starting to take the form of web series. More web series than movies are viewed on digital platforms.
With this in mind, the famous film production house "Yar UK Films" is bringing a new and first big web series of its kind "Goli", which is being directed by writer-director Suraj Kumar and Amrinder Pal. The web series was announced today at a hotel here.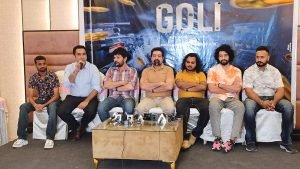 Director Suraj Kumar, Amrinder Pal Singh, lead actors Ashish Duggal, Honey Mattu, Yaad Grewal, Abhimanyu Kamboj, Producer Gogi UK and other faces associated with the film were also present on the occasion. This film is being made under the banner of "Yaar UK Films". The team of this film stated that this web series is a combination of action, drama and suspense, which will entertain the audience. The first season will have 6 episodes. It will be shot at different locations in Punjab and Chandigarh. Written by director Suraj Kumar, this series is the story of an ordinary young man entering the world of crime. This web series also revolves around sister and brother relationships.
On this occasion, Honey Mattu said that he is playing the role of a young man named Goli in this web series who wants to make his name everywhere. After involving himself in petty quarrels he wants to see himself as a famous gangster but something happens in his life that changes everything. This character of his will keep the audience attached to him till the end.
Actor Ashish Duggal, who has played crucial roles in dozens of Punjabi films, will be seen playing a strong role in this series. According to him, the audience will see him for the first time in an interesting and different role. According to the film's director duo Suraj Kumar and Amrinder Pal, this web series is for viewers of all ages. It is being made keeping in mind the demand for digital platforms. Of course, the language of this web series is Punjabi but it has the potential to join the popular web series of the country. More details about its release date will be shared with viewers soon.
Comments
comments