Mohali (Punjabi Teshan) 25th June 2022 Gurnam Bhullar recently finished filming his upcoming Punjabi movies, therefore his fans must be the happiest people in the world. For his performances in recently released films like Main Viyah Nahi Karona Tere Naal and Lekh, Gurnam certainly continues to receive a lot of praise and plaudits.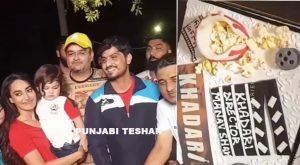 Additionally, the actor will soon be featured in the Punjabi film Khadari. Alongside Gurnam, Surbhi Jyoti will play the lead in the movie. The production crew started shooting the movie in May 2022, and they just finished.
The film Khadari, whose title translates to "a player," was written by Dheeraj Kedarnath Ratan and is helmed by Manav Shah. Kartar Cheema, Prabh Grewal, Lakhwinder Singh, Navdeep Kaler, and Manjit Singh are also featured in the movie in supporting roles.
We recently provided you with an update on Gurnam's next action film. And it's here! Gurnam has established himself as a phenomenal performer in sweet-romantic parts, but this time he is bringing something incredibly special for all of his fans.
We anticipate Khadari to be a player who may have to contend with striking a balance between his personal and professional lives. Due of the presence of a young child at the Khadari celebration's conclusion, we also think Gurnam may be playing the part of a parent.
These are all just crazy speculations that will only become true with time. Khadari's release date has not yet been officially or anticipatedly confirmed.
Comments
comments