Punjabi Teshan (C) : With his incredible acting skills and amazing voice quality,he stays in the heart of every Punjabi cinema lover…yes ,we are talking about non other than Mr. Guggu Gill….below there is an interview with him about his upcoming feature film Shareek…
Q: Whenever you listen the story of Shareek. what was your reaction.. ?
Ans: Mr. Navaniat Singh came to me with that story, I heard it and I felt so good. From so long we haven't seen a story like that. There was a time when that kind of films been made. Even my fans were asking me to do that kind of movie. I immediately said yes for the film. The film's script is really wonderful.
Q: what kind of character are you playing in the movie and who else is working along with you..?
Ans: well, I'm playing a character of Surjit Singh, Jimmy Sheirgill is playing my younger brother.. senior artist Channi Ji is playing our father. On the other hand you will see Hobby Dhaliwal in my uncle's (chacha) character. He has two sons Mukul Dev and kuljinder Sidhu.. We have a dispute of land because of that we hate each other and that leads to couple of murders..my fans will see me the way they likes me.
Q: How was your experience of working with the team and Mr. Navaniat Singh?
Ans: That was amazing. Navniat Singh already prove himself as director even his father Harmeet Singh as a cameraman is a really big name in the industry.. According to me we have couple of good director's in the industry and navniat Singh is one of them. He is technically so sound and I'm feeling good by working with him. Apart from that ,Good news is that the artists from Bollywood wants to work with us which is a proud moment for the industry.
Q: your memorable moment during shoot ?
Ans: well for me everyday was a memorable day. while We were shooting in Mansa the people from nearby villages been so helpful. They helped us so much. I really appreciate whatever they have done for us. Every single day been memorable on shoot.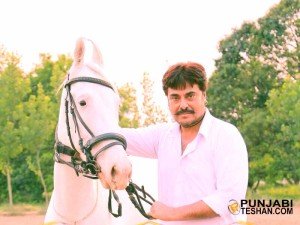 Q: Any dialogue that you like so much from the film ?
Ans : ( while smiling) all the dialogues are wonderful. Even in past, people loved my dialogues and that will gonna remain same in that movie too. When you will see the movie you will realise that.
Q: According to you what is the difference between today's movies and old time movies ?
Ans: I think the making is same but still there are some differences like the budgets goes really high, secondly technically the film are so sound then older movies. The artists from Bollywood are coming to work with us. They shuffle the stories. In the older times we made so many hit fims like ਜੱਟ ਜਿਉਣਾ ਮੌੜ, ਚੰਨ ਪ੍ਰਦੇਸੀ, ਬਦਲਾ ਜੱਟੀ ਦਾ, etc. If the story is good the film always become good too..when you tells a story to someone they listen to you and never go away and when in comes in the form of film then it's on a different level.
Q: you have done so many films. Is there any character that you still want to play ?
Ans : han Ji, the desire is always there…like a famous saying.. "ਹਜ਼ਾਰੋ ਖਵਾਹਿਸ਼ੇ ਏਸੀ,ਹਰ ਖਵਾਹਿਸ਼ ਪੇ ਦਮ ਨਿਕਲੇ". According to me the appetite for good work should always stays. If we think we achieved everything then it stops your success. ਜੱਟ ਜਿਉਣਾ ਮੌੜ is my favorite character from the work I have done so far. After a so long I'm playing my type of character in Shareek'. I think they should make some film's on a real heroes like ਹਰੀ ਸਿੰਘ ਨਲਵਾ, ਅਕਾਲੀ ਫੂਲਾ ਸਿੰਘ Even there should be some stories on our freedom fighters as well. The people lives in villages are so wonderful, they are innocent, they are brave,they loves to live a life with honesty, which needs to show on a big screen.
Q: Any message to new comers ?
Ans : Han Ji, there is a newcomer in our film as well. His name is Simar Gill. I think today's generation is well educated and well behaved. They are intelligent and aware. When we started a career we didn't know anything. We use to do Whatever the director said. But today's generation is not like us,they are well prepared. They learn before come to industry. According to me it's so good ,if you learn before entering it always help. Here I would like to say keep your patience always with you if you couldn't get a work don't lose your patience. Just keep doing it with soul and honesty. To become a good actor it is same like to become a good athlete or wrestler..
Q: There are many film coming day by day.some goes hit and some goes flop. So where do you see the Punjabi cinema heading too ?
Ans: It's going upwards I think. When we started then in return were around 25-30 lacs,then become 60-70 lacs later on but now it's in crores. Now there is only success ahead of Punjabi cinema.. If we talk about flops,well That happens in every business even in jamedari too.. Some time farmers get good return from land some time not. These up downs are a part of life.
Q: Shareek is going to release on Dushehra. What would you like to say to your fans ?
Ans : I would like to say because of you people films becomes successful. Especially if I talk about myself my fans are giving me so much love and that's even increasing day by day. I just need your love nothing else. Se keep supporting me always. I'm like every father's son and every brother's brother.. So keep loving my films. My film Shareek is going to release on 22nd of October. Plz go and watch it we worked so hard to give a really good movie.. Sat shri akaal Ji
Comments
comments