22 June 2022 : Mohali (Punjabi Teshan) Kulwinder Billa, a Punjabi singer and actor who has earned a name for himself in the entertainment industry for his singing, is returning to exhibit the essence of his acting in the upcoming film 'Television.' The audience will be able to observe Kulwinder Billa's acting as well as appreciate his singing in this flick. The film's music, like the trailer, is receiving a positive reception from the audience.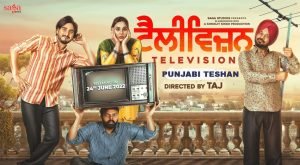 It should be noted that the crowd is really enthusiastic about this film. On the 24th of June, "Saga Studio," the country's top film production business, will release this film internationally. This time, the company is collaborating with Simranjit Singh Productions to bring this film to life. Punjabi cinema will have another attractive actor duo with this film featuring Kulwinder Billa and Mandy Takhar.
This Punjabi film stars Gurpreet Ghuggi, BN Sharma, Prince Kanwaljit Singh, Baninder Bunny Gurmeet Sajan, Parkash Gadhu, Ashu Sahni, and over two dozen more well-known Punjabi performers.
The film, which is written by Manjinder and directed by Taj, is highly anticipated by the public. Kulwinder Billa and Mandy Takhar will be seen on the big screen for the first time in this flick. The duo will thoroughly delight the audience.
This will be Kulwinder Billa's second Punjabi film, following his debut as a hero in the Punjabi film "Prahuna." Viewers will perceive Mandy Takhar in a new light in this film. The arrival of Gurpreet Ghuggi and BN Sharma's comedy will add to the film's intrigue……
Comments
comments