Chandigarh 5 Dec ( Punjabi Teshan  ) The versatile singer-actor of Punjabi Entertainment Industry whose songs have received not just national but international acclaim as well, and the one who has always backed meaningful cinema – BABBU MAAN – is back to amuse his fans as an actor in 'Banjara – The Truck Driver' releasing on 7th December. The film is being made under the banners of Rana Ahluwalia Productions Maan Films, American System Motion Pictures, its Producers are Rana Ahulwalia, Babu Singh Maan and Harjit Mander and is being presented by Ohri Productions and is being distributed worldwide by Ohri Productions.
Last seen in Baaz (2014) as a police inspector, Babbu Maan is making a comeback in this film helmed by Mushtaq Pasha. Mushtaq Pasha  – one talented filmmaker in our industry who also happens to be the recipient of the prestigious Dadasaheb Phalke award.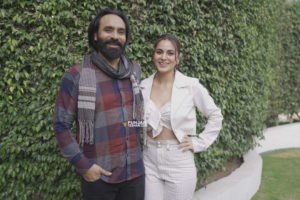 Bankrolled by Rana Ahluwalia, Sardar Babu Singh Maan and Harjeet Mander, the trailer of the 'Banjara' has already been released. The film is penned down by ace screenplay writer Dheeraj Rattan and the dialogues are written by Surmeet Mavi (fame, Punjab 1984).
Talking about the role says Babbu Maan, "In this film I am playing the son, the grandson and the grandfather in a triple role! However, the film will not see me agein, as he I am playing all these characters in the young avatar of their respective times. The film will highlight eras of 1947, 1984 and 2018 showing love interests of three generations in their younger days."
Throwing further light on the plot of the film, adds director Mushtaq Pasha, "What's shown is that romance changes with time, even the clothes, manners, looks and etiquettes of actors but what remains the same is that 'Banjara – The Truck driver."
Along with Babbu Maan, the cast of the movie includes Rana Ranbir, Shradha Arya, Rana Ahluwalia, Rana Ranbir, Jia Mustafa, Sara Khatri, Gurpreet Kaur Bhangu, Malkeet Rauni and Parkash Gadhu.
The film is also a comeback project of Babbu, last seen in Baaz in 2014. Reportedly, Babbu Mann had to undergo several rounds of makeup, for hours, to prepare for the sequence. Babbu's screen names in the film are Harnek Singh (1947), Nachhatar Singh (1984) and Binder Singh (2018).
The Music has been prepared by none other than Babbu Maan himself along with the lyrics too.
Comments
comments