Mohali : 22 February 2022 (Punjabi Teshan)The trailer of much awaited film 'Main Viyah Nahi Karona Tere Nal' is released . The movie starring Sonam Bajwa and Gurnam Bhullar.
We can have an idea about the story of the movie from trailer , that it is going to show the love story of a NRI boy and a desi girl .But it is going to be a completely different and unique love story and more a package of comedy . Trailer also depicts that there is going to more situational comedy than only punches.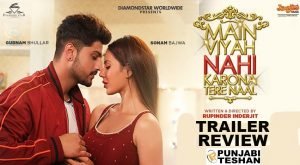 Sonam Bajwa's character elegant but innocent, on the other side Gurnam Bhullar's character is completely opposite Sonam , little naughty and westren. Apart from leading duo, we will see Rupinder Rupi, Jatinder Kaur ,Bhupinder Barnala, Mannat, Jasprem Dhilon , Babandeep Kaur, Pawan Johal, Harjit Kainth and many more in pivotal roles.
This romantic comedy movie is directed by Rupinder Inderjit and the story of the movie is also penned him. Besides this, the Movie is produced by Diamondstar Worldwide.
Apart from this if we are talking about the chemistry of Sonam Bajwa and Gurnam Bhuller we have already seen their astonishing chemistry in Guddiyan Patole. So it is going to be very interesting to see them both on 4th March in theatres . So if you are excited to see this movie let us know in comment section ………….
Comments
comments