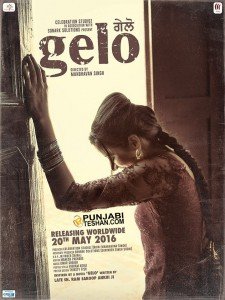 The crew of the upcoming Punjabi Film titled "Gelo" visited Press club sec 27 Chandigarh, today to unveil the first look and announce the release date of the Film which is 20th May of this year. The Film is inspired from Late Ram Saroop Ankhi ji's novel Gelo.
The Film is directed by Manbhavan Singh and produced by Nidhi. M. Singh (Celebration Studioz) who were present with their associate Producer Surinder Singh Sodhi (Sonark Solutions). Film features "Ik Kudi Punjab Di" fame Jaspinder Cheema and Veteran actor Pavan Malhotra who relived the character of Bhagat Puran Singh recently with par excellence. Film also features Gurjit Singh, Dilawar Sidhu, Aditya Sharma and Raj Dhaliwal.
The Film revolves around Gelo who represents the females of small land tillers and small farmers of Malwa's cotton belt in Punjab. Manbhavan Singh said that Film is about making right decisions even in averse conditions also that how life becomes more than a just a matter of pulse ticking when life, conditions and power plays unjust with laymen.
Interacting with the media Leading Lady Jaspinder said that it was a herculean task playing Gelo as the Film shows her journey from early twenties to mid sixties but she really enjoyed the process and that it is one of her best performances till date.
The music is composed by Umar Sheikh entwined with the vocals of Roop Kumar Rathod, Javed Ali, Richa Sharma and Tarranum.
Adding ahead Manbhavan Singh said that the whole team has worked very hard for the Film. The Film dealing with condition of people of Malwa will take the audience on a ride of variety of emotions which will make them laugh, cry and feel "Gelo."
Comments
comments