Well, it really looks like this is the right time for metamorphosis to happen in our Punjabi Film Industry and it is About time, for a positive change in the industry. So, in lieu of this thought process all the big and likeminded personalities of the industry today got together and discussed to bring a big change in the Punjabi Film Industry.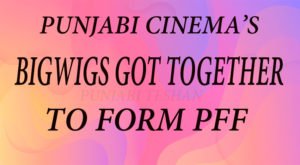 And people, all the biggies of our Punjabi Film Fraternity, with the most talked about Production Houses, like Rhythm Boyz Entertainment, White Hill Studios, Omjee Group, Omjee Star Studios, Villagers Film Studio, Nadar Films, Pitaara Talkies, Panj Paani Films, Ammy Virk Productions and Thind Motion Films got together and formed an association as Punjabi Film Federation (PFF).
And with the support and presence of names like, Jatinder Shah, Karaj Gill, Amberdeep Singh, Sandeep Bansal, Munish Sahni, Manmord (Sunny) Sidhu, Amiek Virk, Jarnail Singh Simerjit Singh, Kshitij Chaudhary, Rakesh Dhawan, Gurpreet Palheri, Janjot Singh, Jass Grewal, Bhagwant Virk, Ashwini Sharma, Tarnvir Jagpal, Harry Bhatti, Gurshabad, and Shammi Garg (Thind Motion Films) a panel of five members was formed, who will represent Punjabi Film Federation (PFF) for all the important decisions and queries related to our Punjabi Film Industry.
The names of the panel members are as under:
1. Sandeep Bansal : Pitaara Talkies
2. Jarnail Singh : Virasat Films
3. Munish Sahni : OmJee Group
4. Manmord (Sunny) Sidhu : White Hill Studios
5. Ashwini Sharma : Rabab Music & Film Prodn.
Comments
comments