When we heard this word Vadda Kalakaar, it sounds like very Proudy and big but in the story of this movie this means in a taunting way! Vadda Kalakaar.. this title suits the subject and concept of the movie a lot. This movie is presented by Red Castle Motion Pictures and directed by Kuldeep Kaushik.
This movie has released and it is a good entertaining movie. Movie is starring Alfaaz and Roopi Gill in the leads with supporting characters like Nirmal Rishi, Yograj Singh, Harbhy Sangha, Malkeet Rauni, BN Sharma and many more. Talking about the acting everyone has played their part well. Deedar Gill's written story is amazing and in the story there is a movie which is being shorted. Alfaaz want to be a Vadda Kalakaar and to be the one he tries his hard best. He wants to be something because he loves Roopi Gill. The character of Alfaaz is very natural and innocent. Roopi Gill is looking very beautiful in the movie.
This movie is overall entertaining and has a good pace of comedy. Punjabi Cinema has many movies now which entertain the audience in a very good manner. All the songs of the movie are wonderful and you will get to listen songs in the voice of Ranjit Bawa, Kamal Khan, Mannat Noor and Alfaaz. Music is also good which is given by Gurmeet singh, Alfaaz, Sham Balkar, Gold E Gill and Mo Fusion.
There is a surprise in movie that one movie is being made in the movie. It sounds interesting and to witness this you have to watch it in theaters. The background music of the movie is very strong and impact. Yograj Singh is playing a very impressive character and if we see the dialogues, they are really good which makes us remind of the old time movies. Vadda Kalakaar movie is running successful in theaters.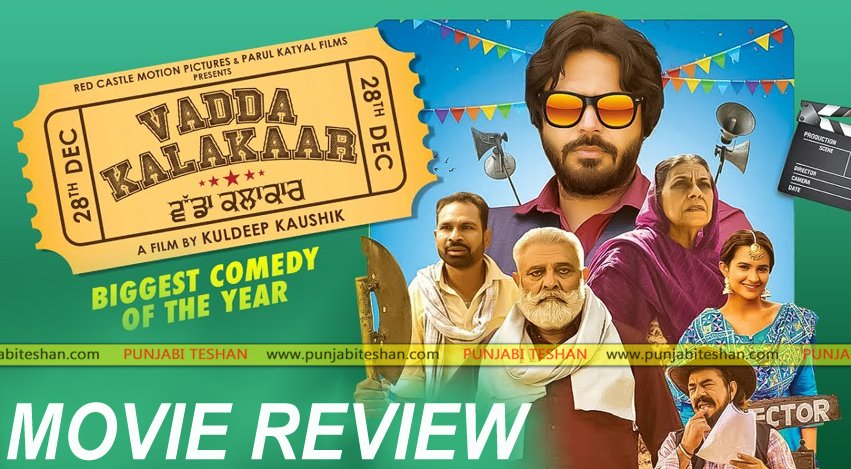 Comments
comments