Haryanvi superstar DK is all set to release his third single and is targeting a much bigger number of listeners this time to promote Haryanvi language
It could have been his debut song but Haryanvi superstar DK did not want to compromise on the audio or the video of this song. Titled 'Desi Chore', this Haryanvi single track is all set to hit the musical grounds. Releasing on 12th Jaunary, this is the third single by DK after his earlier hits 'Fail Whisky' and 'Mooch Ka Sawaal'. Produced by Speed Records and Betaab Films, this song is all about the desi attitude to a broken friendship. The song has been penned down by DK himself. His friend Makk V has composed the music and also has lent his voice to the song.
DK is in his early thirties and belongs to Rohtak in Haryana. He does not come from a musical family but is concerned with how Haryanvi language is being treated when it comes to music. He said, "I am inspired from so many Punjabi artists who are doing so much for their mother tongue. In fact people like Yo Yo Honey Singh, Badshah, Nawaab Saab, SB Haryanvi contribute to Haryanvi language but still there is a lot more to be done."
Though the music from Haryana is folk and tradition based but DK believes that there is always a much needed commercial touch in order to reach the masses. He said that it is important to connect people to Haryanvi first, later we can give them the folk and traditional dose out of our music. He is further planning a collaboration with some Punjabi artists through which he is going to target the listeners from both Punjab and Haryana.
It is indeed a matter of pride that a Haryanvi song got its first motion poster released. It proves that the industry is expected to grow in coming times at a good pace.
This is actually the first ever song written by DK but he was waiting for the right concept for presenting it. Now he is fully confident that the product has been rightly made. Music director and co-singer Makk V praised about Speed Records which supported this Haryanvi attempt being a Punjabi music label primarily. Dinesh Aulakh, Director, Speed Records commented that this is an honest attempt by DK to promote Haryanvi language and our company has always stood up for such artists.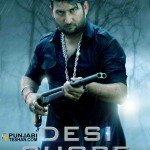 Comments
comments