Punjabi Teshan : The makers 'Kuriyan Jawan Baapu Preshaan' revealed it's release date along with the new poster of the movie. It's going to hit the theaters in April this year.
So firstly taking about the starcast, Karamjeet Anmol, Ekta Gulati Khera, Piyu Sharma and Love Gill are going be in lead. Apart from them, we will see Lucky Dhaliwal and Kaka Kautaki in pivotal roles. Moreover, the film is helmed by Avatar Singh who have done amazing job in movies such as Ranjha Refugee, Rupinder Gandhi 2 The Robinhood.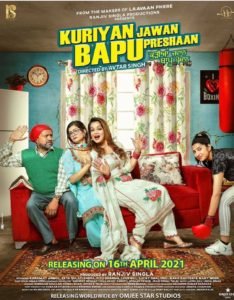 Besides this, the movie is produced by Ranjiv Singla who produced Laavaan Phere previously. Meanwhile, 'Kuriyan Jawan Baapu Pareshaan ' is going to be released under the banner of Ranjiv Singla Productions. The story of this movie is penned by Aman Sidhu and Navneet Beohar is cinematographer of the movie.
As per the poster of the movie, father of three girls Karamjeet Anmol will be seen as strict but sweet father. On the other side, one daughter is little shy, second one is naughty and the third one is boxer . It's going to be interesting to see their chemistry on screen. The movie is all set to be released on 16th April this year . So let us know in comment section that how much excited you are.
Comments
comments