Actor Ranjha Vikram who is making his debut in the Punjabi film industry through his upcoming film 25 Kille, has also been pretty successful in his fans' eyes by doing full justice to his wardrobe. From that look, of a well built, toned villager playing kabaddi to being seen in the fields with a   vogue murmuring the rhythms of romance with his co-actor Sonia Mann, have created their charm among the audiences.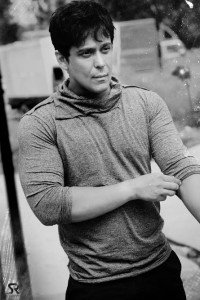 Ranjha is trying to conquer all the possible areas through his efforts. His efforts are not only limited to establish himself as a successful actor in the Punjabi Industry but he also has paid ample attention on his looks, his wardrobe trends and his physique.  On the same he added, "I believe that fashion has changed. The scenario demands that let's not follow the trend yet let's be trendsetters. I had been working very hard when it was about revealing my first look in the Punjabi film industry. The contentment was achieved when I received a quality of compliments from my fans and other near and dear ones."
Ranjha is being featured in the film in various roles to quote he is playing the role of a loving and supportive brother, a true sports person and a romantic lover and he made sure that all his style and attires matches his role from head to toe.  He considers this to be another important aspect to give a fresh outlook as well as a perception in the industry when it comes to setting this trend since he himself has initiated it.
The track, 'Door Ho Javanga' sung by Rahat Fateh Ali Khan released recently from the film 25 Kille has featured the duo in a unique way in few bits of the song. Ranjha, ensured to look different and match the thematic presentation of the song. Not following to what is common; he rather got his attire done more like a sufi yet modern with flairs and silhouettes adding grace to his look. This surely is a rare site in the Punjabi Film Industry which has been made implemented by Ranjha Vikram.
Punjabi film '25 Kille' has been produced by Amanpreet Singh Sodhi, Vikram Singh and Shirin Morani Singh. The stroy and the direction are by Simranjit Singh Hundal and story has been written by Surmeet Maavi. The music of the film has been composed by Jaidev Kumar. The film will be releasing on 25th of august.
Comments
comments