Mohali (Punjabi Teshan) Punjabi music industry is opening up after the lockdown and Covid epidemic.
Meanwhile, Leona Kaur, who grew up in Ludhiana, has introduced her first Punjabi single track 'Haan', along with Mehtab Virk, under the banner of True Blue Music. The track was released at a press conference held at the Chandigarh Press Club. Mehtab Virk, Sandeep Sharma (Director) and Mr Pendu (Music Director) were also present on this occasion.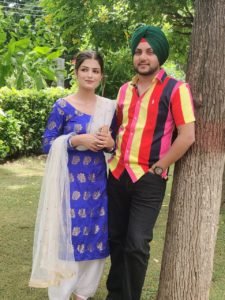 Leona, while talking to the reporters, said that the lyrics of the song were written by De Harap and it has been shot in Chandigarh and New Chandigarh area. It was a romantic track and has been crafted beautifully.
Leona further said that none of her family members was from this field, but she was passionate about singing from her childhood days. Her parents extended their full support to get into the musical field. She is quite hopeful about her first Punjabi single track. She did her graduation in Music from Panjab University, Chandigarh.
Mehtab Virk said that people would like this song. The track has got melodious touch by Leona's voice and her impressive performance. It's a beautiful song.
Comments
comments