Pride Motion Pictures presents the upcoming multi starrer Punjabi film, 'Aatishbaazi Ishq'.  The film is directed by Amit Subhash Dhawan starring Roshan Prince, Mahie Gill, Kulbhushan Kharbanda, B.N Sharma, Tanya Abrol and Ravinder.
The film features a song 'Ishq Ishq' sung by Labh Janjua and Roshan Prince. Unfortunately, that turned to be Labh Janjua's last song. Labh Janjua is a big name when it comes to music industry. He is known for his Indian Bhangra and hip hop singing and song writing. His fans would get the last opportunity to listen to his new track through this film.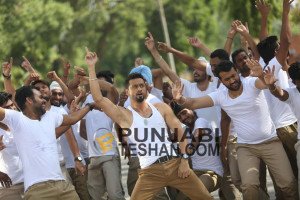 Mahie Gill, the renowned actress would be this time, not only seen as the lead actress of the film but also has given her best being the producer of the film. On the same she added, "Acting has been a major part of my life and I have always enjoyed doing different types of roles. Versatility is something that everyone actor practices as it really helps you learn and excel in your field. But this time being the producer for the first time, was surely a very different as well as an enhancing experience for me. Fingers crossed, I am hoping for the best."
Talking about the song sung by Labh Janjua, Mahie added, "Labh Janjua ji was a benchmark of the music industry and no doubt the industry has suffered an irrevocable and an irreparable loss after losing him. A week before he passed away we had finished the recording of the song and It's really upsetting when one realizes that it could be his last song.  Today, unfortunately he may not be present among us but his music his compositions will always live with us, in our hearts for now and forever."
The film's story, screenplay and dialogues have been written by Amit Subhash Dhawan along with Jagjit. S. Saini and the music have been given by R. Sheen. Pride Motion Pictures' Aatishbaazi Ishq will hit the cinemas worldwide on the 7th Of October, 2016.
Comments
comments