A realistic movie by Singh Productions based 20th century Sikh History set to release on 7th August.
Pollywood has come a long way from releasing comedy movies and is experimenting with newer genres. Biopics are the latest rage in Punjabi cinema and one such brilliant attempt aimed at narrating the 20th century Sikh history is 'The mastermind Jinda & Sukha' is all set to release on 7th August 2015.
The first poster of the much awaited thriller was a star studded event that was attended by the star cast including Nav Bajwa, Sonpreet Jawandha, director Sukhjinder Shera, Amritpal Singh (Billa Bhaji), Sunita Dhir, producer Sukhchain Singh, Jaswinder Kumar, and Ranjit Singh. Senior Akali leader Simranjit Singh Mann was also present to grace the poster launch.
"We are very happy to unveil the poster of this much-awaited Punjabi movie that is a tribute to Bhai Harjinder Singh Jinda & Sukhdev Singh Sukha, known for their high profile acts of bravery. The movie is based on extracts taken from the letters of the martyrs. Already a book is available for this. The movie is a fresh take on Sikh history and we are sure that the Punjabis will watch as Sukha and Jinda create history," said director Sukhjinder Shera.
Also present at the poster launch event held in Chandigarh Press Club were Balwinder Kaur and Bhupinder Singh, real sister and brother of Bhai Jinda Singh and Kulwant Kaur who is real sister of Bhai Sukha Singh. Produced by the Singh brothers, this movie is going to be a game changer for the Punjabi industry.
Talking about the screenplay, producer Sukhchain Singh said that Bhai Sukha and Bhai Jinda assassinated former Indian army general ARUN KUMAR SRIDHAR VAIDYA for commanding army to attack on Darbar Sahib (Amritsar) in June 1984. They were sentenced to death for this act. The duo took arms in the light of Gurbani and they were inspired by 'Zafarnam', a word coined by Guru Gobind Singh Ji.
"BHAI JINDA & SUKHA repeated history and proved that the Sikh spirit of the past is still alive. They sacrificed their lives and their name has been imprinted in history," said the producer.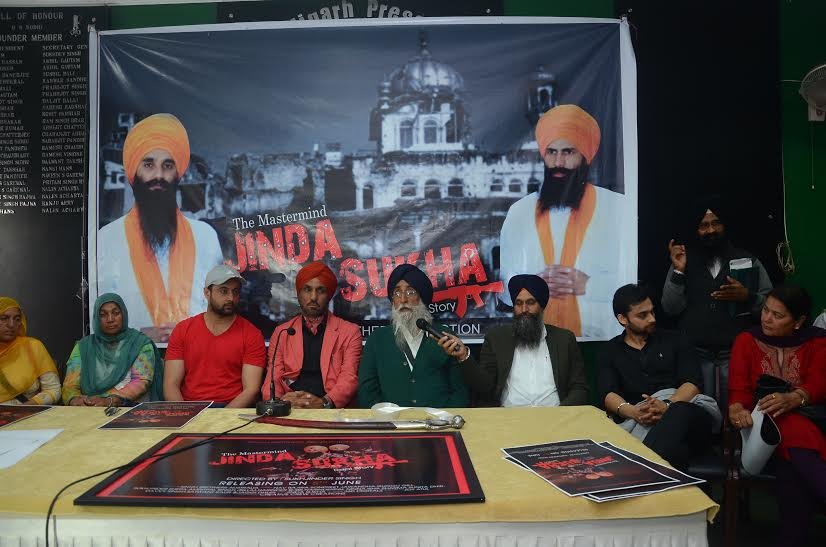 Comments
comments