Production houses are really working hard to present movie for Pollywood. Many new movies are announced every next day and many movies are releasing every next week. Punjabi cinema is on the highest peak as a lot number of movies are there to be release yet. 2019 is a year which is bagged with many Punjabi movies which are announced under many established production houses.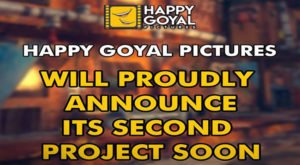 From all the production houses, one is Happy Goyal Pictures which will soon announce a new movie after the success of 'Marriage Palace'. This movie was starring Sharry Maan and Payal Rajput. Audience loved the movie and also appreciated the chemistry of both the lead actors. It represented a love story of old times. The concept of the movie was very brilliant and new, also it was presented in a different manner. Now this team is all set to bring a new movie for all of us. 
Before their movie was based on a Comedy genre and lets see this time what they will bring. May be they will present another comedy movie or perhaps they can deliver a new concept in the movie. Production houses are moving forward and also taking the Punjabi industry forward. The audience is looking forward for all the next Punjabi movies and also specially for this one. We hope to get all the details of the movie soon including the Title of the movie.
Comments
comments