As we know there are so many singers coming to Punjabi music industry everyday but only few does hard work to learn about music before entering the industry. Who want to do something different. One of the kind singer named Ronnie interviewed by Punjabi Teshan. He finished his Bachelors In Multimedia (BMM) From GNDU and he is from the holly city of Punjab Amritsar. From last two years he is taking training from the professor of khalsa college Harleen Dolly Ji. Here are some parts of the interview below –
How you found interest in singing…??
well I love to sing from my childhood. I use to sing in my school functions and then in the youth festivals in my college life. Then i thought I should start singing professionally. To learn music seriously I start learning from prof. Harleen Dolly Ji.
who influence you most..??
From my childhood I use to listen Kamal Heer  Bhaji. His song 'Beth ke Trinjna ch' was so famous and I listen a lot. Even if somebody ask me to sing I always sang that song. In the era of hip-hop I loved all the songs but Yo Yo Honey Singh's music I loved the most. I was affected by Jason Derulo, Pitbull and Diljit Dosanjh. I listen evey kind of music because I wanted to sing every kind of songs.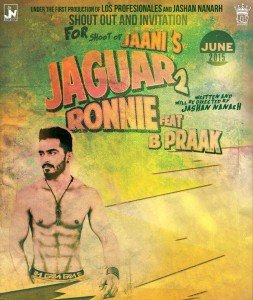 Your upcoming and first song jaguar 2,which is making headlines before even release. Tell us something about it..??
I got that song in November 2014. I was in a meeting with Jashan Nanarh Bai. we were thinking  how to start Our work and we should do something new. Then we met with Jaani(who has written the first Jaguar song). That's how we finalised the song. Jashan Bai said we will try a new look on you. He said you are new and that's your first song so we should do something different.. Jashan Bai told me to loose weight and put on abs,So I joined a Gym. Made a six pack abs in six months. Lost my weight around 20-25 kg..while I was working on my body the song Jaguar(1) got released then we had to change the name to Jaguar 2.
When is going to release your new song & What will be the title,song Detail..??
As i told you  earlier due to some reasons we had to change the title and now new title "Go Baby Go". The music of the song is given by B Praak (Awarded Best Music Director 2014-15 (PTC Music Award)  and lyrics are by Jaani.
What will be the star cast And Crew..??
well..the star cast is huge.all of them are well  known faces   of the industries Like Ammy Virk, Dilpreet Dhillon,Sara Gurpal, B Praak, Alisha Chaudhary, Aakanksha Sreen, Jaani, Jashan Nanarh, Vadda Grewal, Aman Kotish, Himanshi Khurana and myself. D.O.P. of The Video Is Karan  B Rawat. Who has worked as d.o.p in famous Bollywood movies Like (ABCD 2, GHAJINI, KITES, once upon a time in mumbai, F.A.L.T.U) 
How do you feel working with Jashan Nanarh..??
Very good I must say.we had a relationship like brothers while shooting. I think that will be his first urban video. We shoot the video in Lavasa and some part in North country Mall. Jashan Nanarh Bai is the one who inspire me to join a Gym.The name 'Ronnie' is also given by him. I learn a lot from him.
Were you nervous while facing Camera as this was your First Time..??
 Not really, because I use to do theater in my college. Yes I was nervous but that was not an issue. Jashan Bai & Hardeep Swaich(Manger Of Team Los Profesionales) helped me a lot.
Do you have message for youngsters..?? 
Yes, I would like to say that work hard on music before come into industry. Without working hard you can give one or two hit songs but if you want to go long then work hard there is also a famous saying Practice Makes The Man Perfect.
Rapid
1.love marriage or arrange marriage 
love marriage
2Aany song you wanted to sing which is released already.
Honey Singh's love dose(but he sung really good)
3. Favourite singer 
Imran Khan and Yo Yo Honey Singh, Jason Derulo, Pitbull, Diljit Dosanjh
4.Money or fame 
fame
5.where would you like to go for holidays 
Goa… Chandigarh in Punjab and my city Amritsar
Would you like to say something to the readers of Punjabi Teshan.
yeah I would like to say that my new song is coming so support me,share the song… We worked so hard on that song.not just me but the whole team worked so hard..and also I would like to inform everyone that we are going to introduce a new thing  By B Praak that's bridge (a new form of singing)… Thanks
Comments
comments