For his upcoming film 'Mukhtiar Chadha', actor Diljit Dosanjh wanted the same kind of gun as used by Arnold Schwarzenegger in one of the Terminator movies
There are many people who are fans of actor Diljit Dosanjh. But does anyone know who Diljit is a fan of? The answer is Hollywood actor Arnold Schwarzenegger. Yes, Diljit admires Arnold so much that he wanted to use the same kind of gun for one of the sequences of his upcoming Punjabi film 'Mukhtiar Chadha' as used by Arnold himself in one of the Terminator movies.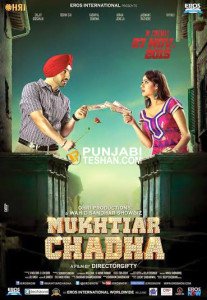 The actor told, "There is a sequence in the film where I enter the villain's arena with a heavy gun in my hand and shoot all over. I have always been an admirer of Arnold Schwarzenegger and I always wanted to use the same gun myself. I pitched my desire and idea to the production team and the gun was made available."
The replica of the gun took 40 odd days to get ready and the scene was successfully shot. Also, the actor sprained his ankle while performing the stunt. But showing true professionalism like always, Diljit didn't stop and continued shooting. Diljit is so much in love with the gun that he has decided to keep the gun always with him.
Presented by Eros International, 'Mukhtiar Chadha' releases worldwide on 27th November, 2015. Produced by Vivek Ohri and BM Ohri (Ohri Productions Pvt. Ltd.) and Sukhbir Sandhar (Wahid-Sandhar Showbiz), the film has been directed by Director Gifty (aka Chetan Parwana). Nick Bahl and Karan Parmar are the co-producers and Atul Ohri is the executive producer. Friends Distribution House Delhi is the associate producer of the film. The music of the film has been done by JSL Singh and is released on Eros Music. Other important characters have been played by Yashpal Sharma, Oshin Brar, Kiran Juneja, Abhi Rai, Jaswant Rathor, Khyali Ram and Inderjit Singh.
Comments
comments