Pollywood Industry has many names who are working for the industry from past many years but sometimes they don't really come in front. One of them is Daljit Singh Thind, who is well known name in Pollywood. He is coming up with a movie 'Munda Faridkotia' starring Roshan Prince and Sharan Kaur.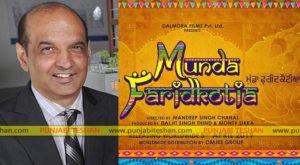 This movie is bringing a new subject which will talk about two countries India and Pakistan. Munda Faridkotia title relates to the  story a lot as there is a Faridkot city in Pakistan and in Punjab also. The boy jumps to Pakistan and the suspense creates. Daljit Singh Thind is been co-producer of many Punjabi movies and also he has organised events of Salman Khan. He has worked in both Bollywood and Pollywood.
He is basically from Canada and have always worked for Punjabi's. Dalmora Films is his production house and Munda Faridkotia is the first movie under this banner. Roshan Prince and the whole star cast is very excited for the movie. Official poster of it is out and being praised by the audience. Roshan Prince have been sharing pictures from the sets of the movie which are really beautiful.
This pair is really complementing each other. Looking forward to more details of the movie and till now shooting of the movie is done and this movie will be releasing on 5th April,2019. This year is a big year for Punjabi film industry. Lets see how this movie will put something new and different to 2019.
Comments
comments