The star cast of the upcoming Punjabi flick "collegiate" unveiled the first look of the film at the press club Chandigarh. The film stars Dev Kharod, Victor John, Guggu Gill, Deep Dhillon, Aman Grewal, Karan Dhaliwal, Gurpreet Kaur Sandhu, Hobby Dhaliwal & Pramod Moutho alongwith Bollywood legend & one of the greatest villains of all time Prem Chopra. The film has been directed by debutant Ashish Bhatia & produced by GD under the banner of Green Days Production Private Ltd. Famous Punjabi singer Nishawn Bhullar & Miss World Punjaban Manpreet Saggu were present at the unveiling to show their support for the film & starcast.
The film is a social drama on the life of college youth in Punjab and tries to throw light on the loopholes within the education system. Collegiate also deals with the sensitive issue of rape and depicts a revolutionary struggle for justice that masses in real life hope for. Speaking on the occasion one of the stars of the film Victor John said, "Through the movie we have tried to bring out the various shortcomings of our education system & have simultaneously tried to give an example to our audience as to how the youth by raising their voice can bring about a change in society. We hope we can inspire young men and women who watch our film."
During the unveiling Karan Dhaliwal one of the main protagonists in the film said, "Our movie touches upon various issues & emotions which will move the audience especially the youth. The entire filming process was a joy and working with legendary & talented actors is a learning experience." Dev Kharod who plays a prominent role in the film said, "Punjabi people especially youth have a strong revolutionary instinct within them. We have tried to explore this potential through our movie and motivate them to be the agents of change in our society."
The shooting of the film has been done across various locations of Punjab. The story of the film has been penned by Inder Pal Singh who has also written the screen play. The music of the film has been composed by Gurmeet Singh & Santosh Kataria while the background score has been given by Shail Vyas. Shridhar Pujari has done the cinematography. Singers are Komal K Chand, Amika Dhaliwal & one of the most popular voices of Bollywood Kumar Sanu. Punjabi cinema is evolving and is opening up to various genres & "Collegiate" is part of that evolution.

Collegiate Motion Poster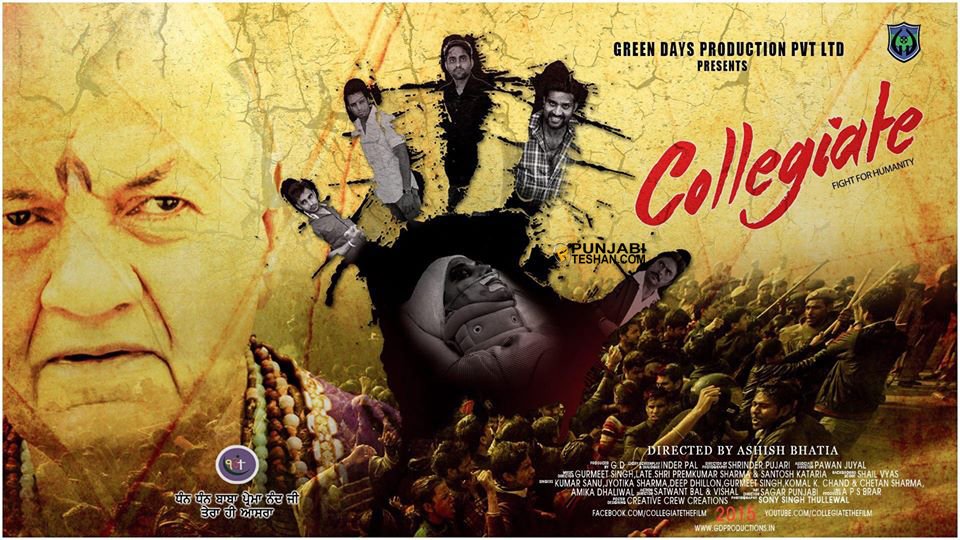 Comments
comments