'ARDAAS' very positively and well made film. It's a time growing time of a Punjabi cinema.
Punjabi Teshan Rating ****4/5
Now a days,We are watching some amazingly made films on a different subjects. Which is a sign of growth in the industry. Ardaas' is adding a new pearl into that treasure.. Ardaas could be a next milestone of Punjabi cinema. Gippy Grewal and a team done a fantastic job by choosing that kind of topic and made a epic film.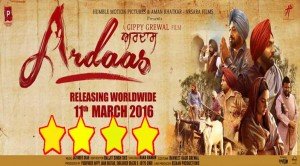 Plot: The story is about a man Gurmukh Singh (Gurpreet Ghuggi) who is a teacher. Gurmukh lost her wife and unborn baby because of her mother's wish. Then he decided to spread Gurbani and truth among the much needed people. He is been transferred to a village where he saw the the sorrows and unhappy families. He helped those people by giving them a strength from Gurbani.
Starcast performance: that couldn't be wrong if we say it's a masterpiece by Gurpreet Ghuggi. He is been amazing all over. He is the one who carry the whole story of his shoulders. Apart from him rest of the starcast was playing their characters and they made a full justice to the movie. Ammy virk has improved so much, he acted like a good theatre artist. Rana Ranbir, Sardar Sohi, Karamjeet Anmol,Harinder Bhullar and others played their part so wonderfully..
Technicality: As I must say Gippy Grewal done a great job. As it was his first film as a director he has done a fair job. The way he involved every character into the story keep them until the end was commendable. And No words for the D.O.P. if the film non other than Mr.Baljit Singh Deo. He is a great cinematographer. No doubt he one of the great cameraman's that we have in the industry.
Writing: the story has so many characters but nicely presented by the writer. The dialogues by Rana Ranbir compliment the story. The dialogues been used in the film were very well written.
Music of the film is quite good. Some of the songs directly enters into your soul which is a great compliment to the composers.
At the end we would like to say if you wanna see a great acting work and wanna learn something then you must go and watch that film this weekend…. We see you next time, until then have fun and stay haapy… Cya
Comments
comments