'Guru Da Banda' is an Animated punjabi movie which is based on the life of great warrior of Sikh History, Baba Banda Singh Bahadur. It's trailer released on 31st July, 2018 and its been almost a month that trailer is given a great response by the audience.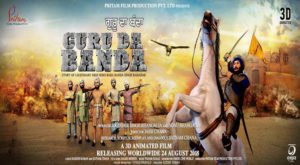 Animated movies are always loved by the people like 'Chaar Sahibzaade' & 'Bhai Taru Singh'. Now, its another great attempt by the producers – Joginder Singh Bhangalia and Sonu Bhangalia who are giving a chance to know about Sikh History. Movie is directed by Jassi Chana, Animation is done by Pritam Film Productions Pvt.Ltd and Title song of the movie is sung by Daler Mehndi.
Movie based on religions are a good medium to increase knowledge. People are really lacking behind when it comes to our history, cinema like this is actually giving opportunities to connect with the religions. Guru Da Banda is Running Successfully in the  theaters.
Comments
comments