Pollywood has industries which includes the Punjabi music and Punjabi movies. Talking about Punjabi Film Industry, it has got an vast growth in the year 2018.Many Punjabi movies has raised the standard of Pollywood. From the years first movie 'Punjab Singh' to the last movie 'Vadda Kalakaar', all has somewhere somehow did a great job.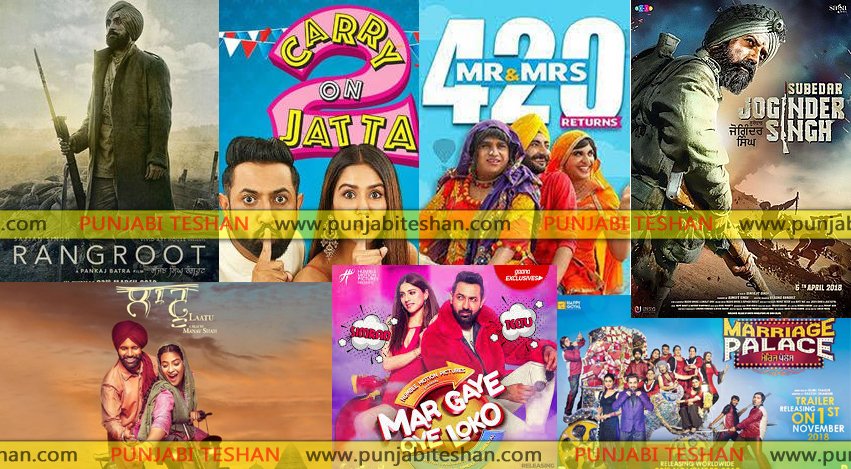 Punjabi movies are very large in number and to peep into every movie is tough but 2018 has many wonderful movies which we cannot forget. Diljit Dosanjh's Sajjan Singh Rangroot was a movie which was an eye opener for all as it talked about the British Indian Army and it revived about the respect of our soldiers. On the other side, there was Gippy Grewal's Subedar Joginder Singh movie which was a Biopic and it was a great step for Punjabi people to know about such a great warrior.
Many Punjabi blockbuster movie sequels were also witnessed like Carry On Jatta 2, Mr & Mrs 420 Returns and more. Peeping into the best genre of Pollywood which is comedy, a lot many comedy movies also released and entertained the audience like Mar Gaye Oye Loko, Jagga Jiunda E, Marriage Palace, Laatu and many more. All the movies were very funny and gave a fresh way of comedy to the audience. Gabbing about the taste of audience which is forever proved funny and comedy. Production houses are making movies like that.
On the contrast new experiments are also done and welcomed in Punjabi cinema. All the movies are carrying new and amazing concepts and subjects. Every subject is superb but some movies doesn't really worked on Box Office. Although they were different and out of the box but from them production houses have got to know about the taste and preferences of public. Now they can work more hard on it and come up with changes and betterment. 2018 was an wonderful year for Punjabi Cinema which raised the standard of industry. Now looking forward for the coming years and hoping for the bestest.
Comments
comments